The man was brought to execution. After several months of imprisonment, he was pale. Around the roaring crowd.
– Villain, crazy! In the king himself shot!
– God saved his majesty!
The simple women, with their hands on their cheek, with their eyes full of tears, looked at the young man who lived to the last minute. Continue reading →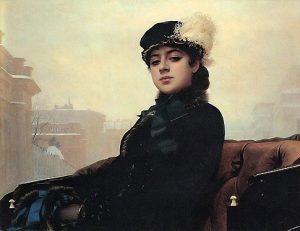 At the end of the 1860s, in the period when the Association of Traveling Art Exhibitions was born, a curious incident occurred in the workshop of Artel of artists. He is described by I. E. Repin in the book "Far near": "One morning, on Sunday, I came to Kramskoy … From a troika-sleigh that arrived, a group of artel artists-artists with cold frost on fur coats fell into the house beautiful woman I was just dumbfounded by this wondrous face, the height and all proportions of the black-eyed… In the general turmoil, chairs quickly boomed, easels moved, and the general hall quickly turned into a study class. Continue reading →
"Our roots are in childhood memories, in the family, its moral soil, foundations, relations with the outside world …", says Moiseenko. "… From the first impressions of life comes the feeling of the Motherland: what sky was above you, what rains washed, on what earth you set foot from the threshold of your home …".
The events that determined the path of the artist were exciting changes, difficult struggle, renewed life, the romance of the feat, born of Great October. Continue reading →
A prominent place in Rembrandt's painting is taken by the painting "The Claudius Civilis Conspiracy", created in 1661. This creation was destined to play a very special role in all Western European painting of the XVII century.
A number of reasons contributed to this. First of all, the unusualness of the task that arose before the artist. Rembrandt, whose activities developed in the field of easel paintings, by the conditions of the order was put before the need to create a work of monumental painting. Continue reading →
Anyone who has visited Yerevan at least once will remember for a long time the sculptural monument to David of Sassun, made by the USSR People's Artist Yervand Kochar. A little more than twenty years ago, this monument was created, but it is no longer possible to imagine an ancient city, the same age as Rome and Babylon, without a mighty horseman riding a powerful horse.
There is no person in Armenia who would not know about the feats of David of Sasun. This is the hero of the national epic – the legendary personality. But the basis of the image, of course, are real events. Continue reading →